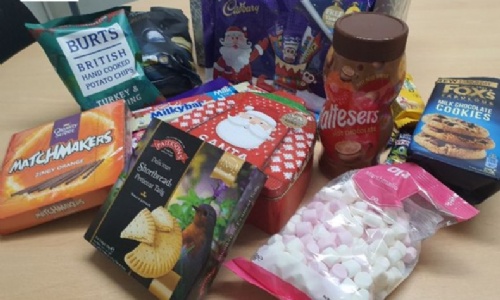 Secret Santa with a Community Twist
Each year, staff at The George Eliot School share cards and gifts with each other to share festive joy and gratitude to those around them. During the pandemic though, we have become acutely aware of the struggles that families have faced in our local community, and in our school community. In light of this, we have chosen to collect any money that would have been spent on cards and gifts and create festive hampers for some of our families that may be struggling this Christmas. In the hampers we have selection boxes, hot chocolate and marshmallows, cookies, snacks and many other treats for families to cosy up and share in a hope of brightening up Christmas after a very tough year.
Our staff have been incredibly generous, donating upwards of £380 as well as bringing in goodies for the hampers and many offers to wrap and deliver the boxes. We cannot thank all of our staff enough for their good will and their hard work all year through.
We would also like to sincerely thank Morrisons, Co-Op and Bidfood for kindly donating towards the hampers, meaning that we could add another 10 hampers to the total we already had which has made a real difference.
This year has been a very trying and testing year for so many, but it has been community spirit, good will and gratitude that has shone through. We wish everyone within our community a merry, bright and hopeful Christmas.