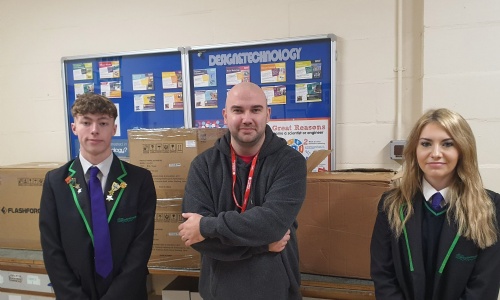 Thank you to Paul and Anne Kelsall of Pixel Forge who have donated an extensive range of 3D printing equipment to GEA.
Paul Kelsall was inspired by Art and Design when at school himself and has gone on to create and run a very successful CGI company

(www.pixelforge.uk). He is passionate about young people having access to cutting edge equipment and being able to experience real world technologies to inspire the next generation of designers, engineers and artists.
To this end, Paul has donated an impressive array of 3D printers and resources to the school, allowing pupils the access to technologies and opportunities that have not been afforded to them before.
Miss Clements, Director of Learning for Design and Technology said, 'It is impossible to overstate how much this means to the school and our pupils. This will have a huge impact on their results, as well as inspire them in their future careers'.
From all of us at GEA, thank you to both Paul and Anne of Pixel Forge for your kindness and generosity.